KERN-LIEBERS España S.A. was founded in 1985 in Barcelona, and TMG S.A. in 1962. Both companies merged in 2009 to create KERN-LIEBERS TMG S.A.
KERN-LIEBERS TMG S.A. supplies an extensive range of products and services at the highest level of quality. Profound technical know-how, customized production lines and suitable machinery and equipment form the basis for innovative solutions that always meet our customers' individual requirements.
Our services and machinery
Technical advice and support in the design stage
In-house tool design and tool shop
Prototyping, production of short, medium and large series
State-of-the-art machinery
Customized measuring and testing equipment
Various materials (spring steel, stainless steel, copper and copper alloys…) with different coating and finishing options
Our assorted production machinery (CNC machines, stamping and forming machines, eccentric presses, grinding machines…) allows us to produce all kinds of springs (compression, torsion, extension…), bent wire parts, bent and stamped strip parts, and assemblies.
KERN-LIEBERS TMG S.A. is certified according to ISO/TS 16949 since 2004. Our latest certificates are available in the "Downloads" section.
Contact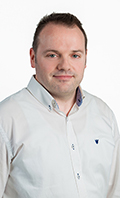 Ramon Garriga, Production Manager
David Valldosera, Managing Director